So you want to dd a picture to a post, but you aren't sure how.  Here are two ways you can add pictures!  Before beginning, make certain the editor mode is turned off.  Editor mode looks like a piece of paper at the very end of your tools bar inside the text box.
The first is simple.  Go to your browser and find the picture you want.  Here I have chosen a rubber duck. Select the image you want and right click.  Among the options, you will find copy image.  Select this option and return to your post.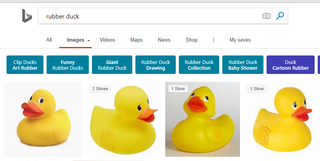 In the text box, right click again, and in those options chose paste.  And there you have it!  This is the simplest solution.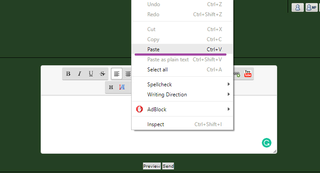 Sometimes the copy and paste method does not work.  So now what?  Now we go to Insert Image!  If you look at your tool bar, you will see four options, one of which is the YouTube option.  YouTube is not the option we will be using, but it is fun to use when sending videos to friends!  The option we want is the second from the left.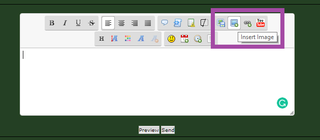 Now, go back to the image you have chosen and right click.  This time, choose the Copy Image Address option.  That done, go to your post and select the insert image option.  You will see three text boxes.  The top one is labeled URL.  Select that one and paste your image address.  If your picture is too big in its original size, select the width option.  I would suggest 400 for size.  You need only fill out one size option; the other option will adjust automatically.  Click insert, and there you have it!  Your picture in the
post!  There is one thing to note about this option.  If the original picture changes or is removed, that will affect your picture here on this site.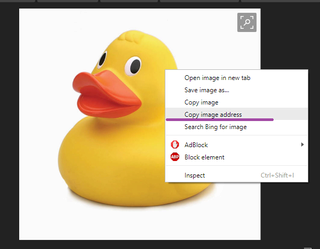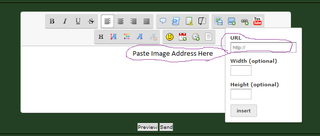 There is one more way to insert a picture into your post from out of your own personal pictures on your computer.  Right next to Insert Image is an option Host and Image.  Chose this.  It will open a mini window as shown in the image.  Here you will also see an option to change the size of your picture.  It is the scroll down menu and is automatically set at "No."

Leaving that open, move your opened window with your personal pictures next to it as shown.  Select your image then DRAG the image to the mini window.  When you have it properly lined up, the mini window will darken in color.  Make certain you have it properly lined up before you drop the picture!  If you drop it anywhere, a new page will open with your picture, losing you any work you had on that page.  
When your image is ready to load, the send buttons will be available.  They will be blue, one at the top that says Send All, the other next to the picture which will have the same symbol as the send all button.  If you have more than one picture you want to be inserted, drag and drop the images until they are all lined up in the mini window.  Then you have the option to send them one at a time or all at once.  Once you have sent them, the images will be prepared to be inserted, and a new Insert All option will appear.  Select this and all your pictures will all appear in your post.  

Voila!  Three ways to add pictures to your posts!  Have fun!


Similar topics
---
Permissions in this forum:
You
cannot
reply to topics in this forum